When celebrities get pregnant, the media tend to go crazy about it, especially with the fans on social media. Their entire pregnancy is in the spotlight, such as how they are keeping in shape, if they are having any sort of cravings, where and when will they have their baby. The most recent pregnancy crazy happened just a few days ago when Chrissy Teigen hinted that she has given birth to her baby boy, that alone is all over the entertainment news, but the baby's name is literally breaking the internet as of the moment continue reading to find out more.
Somebody's Here: Yanny or Laurel
It was Wednesday night when Chrissy Teigen posted a tweet saying "Somebody's here" along with an emoji of a baby bottle. People speculated that Teigen has already given birth to her baby boy.
Her husband, singer John Legend, even retweeted. It was in November when Tiegen announced that she is expecting her second child with the singer. She even took a video that was posted on Instagram wherein it involved her 2-year-old daughter Luna. The Lip Sync Battle host was reported to have been doing something she had actually never done while she was waiting for her baby boy to come, and that is baking.
Teigen has also been reported to have been in such a great mood and was very excited. It hasn't been revealed as to what exactly did Chrissy and John named their baby boy, but the internet has been going crazy over a recording that might actually be the name of the baby.
Somebody's herrrrrrre! 🍼🤗🍼🤗

— chrissy teigen (@chrissyteigen) May 17, 2018
The day before she reportedly gave birth, Teigen posted a robotic recording clip on her Twitter that sounded like it was either Yanny or Laurel. This then led to users speculating that the Lip Sync Battle host revealed the name of her baby, but is not exactly confirming anything.
She had been very active in the Yanny vs Laurel battle and it was clear that she was Team Laurel. So now the couples' fans are in the middle of a debate as to what exactly was the name that was being said on the record. Chrissy's parents have also been involved in the debate but her dad said that he actually didn't hear any of the two names and her mother actually heard the word "rural".
I just asked my dad what he heard and he said "nothing" and my mom said "rural"

— chrissy teigen (@chrissyteigen) May 15, 2018
During an appearance on The Ellen DeGeneres show, Teigen admitted that it had indeed been a real struggle trying to find the perfect name for her baby boy. She said that it was a real challenge and that they don't think they would give him a second name since they can't even think of a first name. It was way too different when she was thinking of a name for her daughter, the host said that she loves the moon and space in general so she knew she had to pick Luna.
Fertility and Alcoholism
It was not an easy road for Chrissy and John especially when it comes to having a family of their own. In 2015, she admitted that they had been struggling for years and had decided to seek the help of Vitro Fertilization.
She personally picked a girl in the embryo since that was what she had always wanted. 2 years later, she chose to go into IVF once more. The 32-year-old host said that she had to get multiple embryos for better chances. Teigen shared that she is gratuitous for the advanced technology we have today since it wouldn't be possible for some couples to have children without it.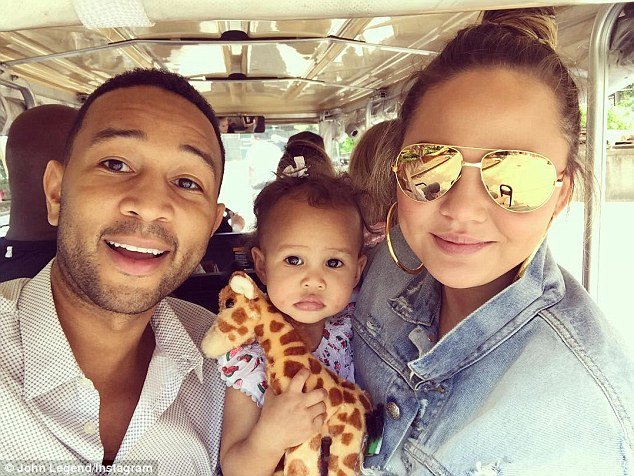 After she had her first child, the model and host revealed that she suffered from postpartum depression, but aside from that, she revealed in an interview with Cosmopolitan that she had a drinking problem. She got used to drinking glasses of wine and she didn't feel very good about it.
Alcohol abuse turned out to be a struggle in her family and she couldn't just have a single glass to drink, she had to have more. However, she managed to recover from it when they went on a vacation to Bali, together with proper diet and exercise, she got better. Teigen admitted that she definitely feel happier not just for herself but also as a wife and mother