The young legend has arrived and to no surprise, he is a cutie. A debate was going on about the name and first photo of Teigen's newborn baby for a long time. But Teigen has ended this debate with an Instagram post in which she shared the name and the first photo of her son.
Teigen shared in the post that the name of her son is Miles Theodore Stephens. She further said that their entire family is feeling loved with the arrival of Miles and she also thanked her fans for their well-wishes and prayers.
The announcement was made by the 32-year old mom who posted on Twitter about the arrival of her second child. The little boy will join his sister Luna Simone said in the Tweet.
While discussing the arrival of her son, the lip sync host told that the delivery was easier this time. Teigen never shied sharing her family news on the social media even the baby births. She captioned the social media post as Luna: 0 points, Baby boy: 1 point as she felt that the delivery process this time was easier. Then she joked about the points that her newborn baby already had an advantage over her sister Luna.
I can confirm postpartum life is 90% better when you don't rip to your butthole. Baby boy: 1 point. Luna: 0

— chrissy teigen (@chrissyteigen) May 20, 2018
A source told PEOPLE.COM that days before giving birth to Miles, Teigen was baking and she never did the same before. Before posting the picture, a fan asked Teigen on Twitter that whether the newborn resembles Luna. In response, Teigen that he has the same nose as Luna and she is in love with him.
Same nose! He is a few weeks early so he's litttttttle and makes the teeniest noises. We are in love. https://t.co/cASCxh6PvR

— chrissy teigen (@chrissyteigen) May 18, 2018
When Luna was born back in April 2016, Teigen made a post about the arrival of her baby saying that Luna Simone Stephens has arrived and both of us are in love with her. At that time, John Legend also tweeted about the arrival of Luna Simone Stephens and said that they can't be happier than this. Just two days after Luna was born, the parents shared the photos on social media. Teigen's mother, Vilailuck Teigen, also posted her own picture with her granddaughter Luna the same day she was born.
Vilailuck Teigen with her granddaughter Luna.
In the photo shared by the parents, the award-winning musician welcomed the newborn by calling him parent's new love. Back in November, Teigen, and Legend announced that they are expecting a second child soon. In an Instagram video, Teigen was seen asking Luna what is inside mama's belly?
And in response, Luna answered cheerfully and then everyone started laughing in the room. Many people thought the parent was just playing along but later Teigen cleared the confusion with this photo.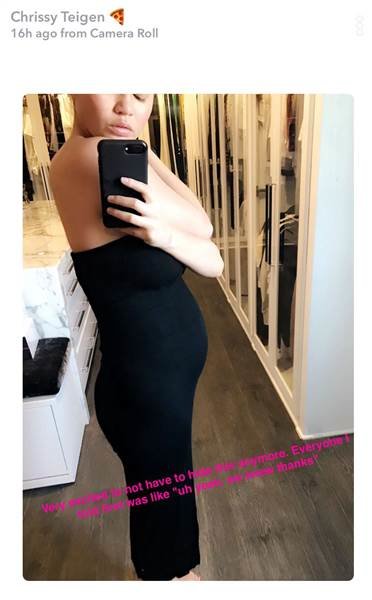 During a live video session on Instagram, Teigen said that now she looks like a pregnant woman but she didn't reveal the gender of the baby at that time. Teigen's mother was quick to confirm the news as she posted "So happy, happy, happy! So blessed." The post made by Teigen made fans comment in various manners from ecstatic to joyous.
One of the fans said that they might have triplets. John 38 and Teigen 31 who were married back in 2013, revealed in an interview given to E! News that they are planning their 2nd baby.
The 2-year old Luna had many fun moments with her parents especially a trip to Disney land. Back in March 2018, Teigen and John took Luna to the Disney where the family had a lot of fun. Throughout the whole tour, the parents shared many photos of their beloved daughter Luna.
The little one was seen playing with Minnie Mouse and Teigen standing beside was joking about her jealousy with the Disney Character. Luna was also captured doing a toddler walk along with her dad. On her second birthday, Teigen and John took her to the Sesame Street for celebration.
Picture of a 3-tiered cake was then posted by the mother on social media. Luna will also receive another gift from her parents as they are expecting another child in coming months, as said by Teigen.
While posting the picture of her newborn baby boy, Teigen said that "Hello people, meet the new member of our family, Miles Theodore Stephens" and then the proud mom thanked the fans for their well wishes and prayers.