Everyone knows how generous Australian singer Sia is. Remember when she gifted her long-time creative collaborator Maddie Ziegler a brand new car when she turned 16 last year?
She further proves her reputation correct with her recent slew of gift-giving activities.
Generous Gift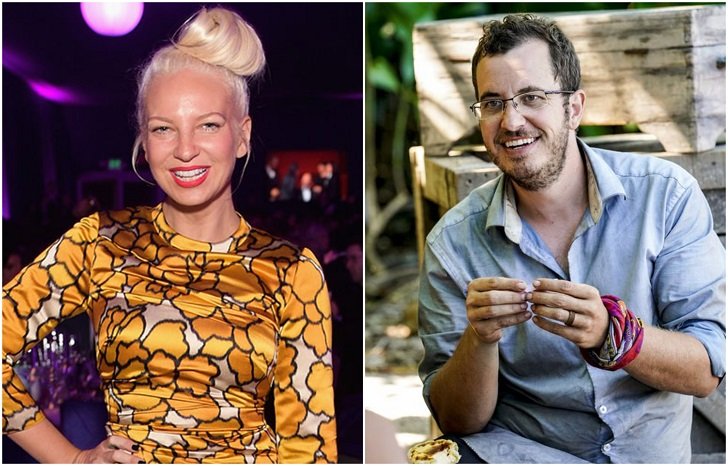 Apparently, a big fan of the reality show, Survivor, the 43-year-old singer decided to do something nice for her favorite contestants who weren't able to bag the $1 million cash prize.
After watching the finale episode of the show's 38th season, Survivor: Edge of Extinction, she announced that she will be giving, Rick Devens, a sum of $100,000. Now, Sia's been giving away smaller 'cash prizes' to Survivor players she liked over the past seasons. But her gift to Devens is the largest amount she's ever given yet.
She previously gave Survivor: David vs. Goliath contestant Davie Rickenbacker $14,000 at the end of the show's last season. Her cash prizes eventually got their own name, the 'Sia Award'. 
The current season's official winner is Chris Underwood. Filmed in the Mamanuca Islands in Fiji, it ran for 12 episodes premiering last February and ending just last week.
Thankful and Floored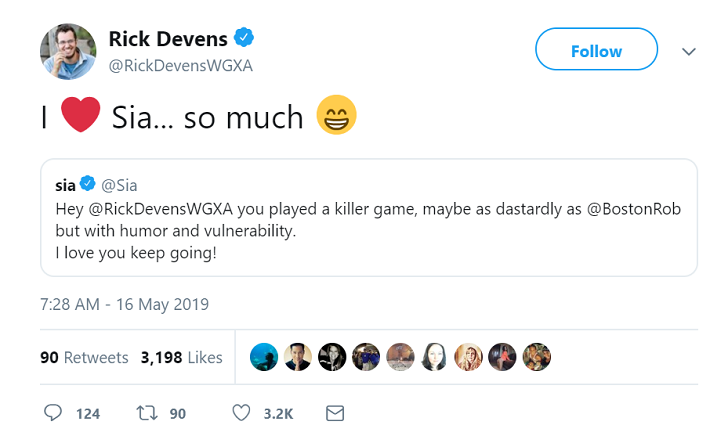 As expected, Devens is very thankful for the cash prize he received from Sia. As he told Entertainment Weekly, he is still 'riding high' from the surprise and is absolutely 'floored' by it. And can you blame him? His wife was equally ecstatic and went nuts when she heard the good news.
He, later on, got the chance to finally meet Sia in person after the Survivor reunion show. Saying how great it was to meet her, Devens admitted how her gift made him feel like the greatest guy in the world and turned a rather depressing night around for the better.
Devens then said how much the $100,000 gift means when it comes to his kids' future. The former Survivor contestant currently works as a television news anchor for the WGXA Morning News in Macon, Georgia where he and his family also live.
Sia's Other Gifts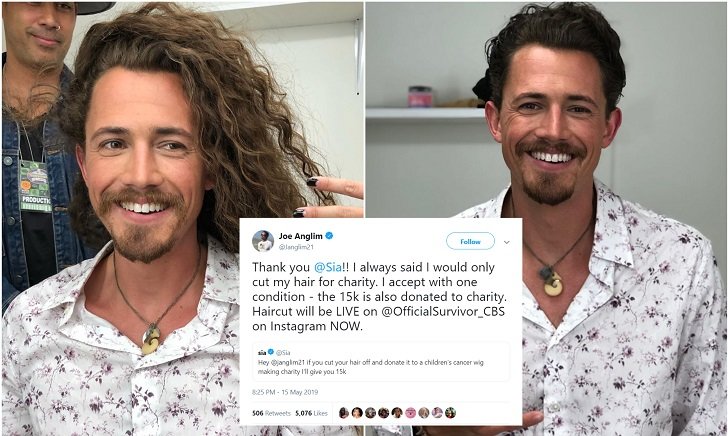 But Sia's gift-giving spree didn't stop at Devens' $100,000 'Sia Award'. She also tweeted at another contestant, Joe Anglim, and challenged him to cut his long curly hair off. According to her, she would give him $15,000 should he follow through with the dare and donate his locks to a charity which makes wigs for children with cancer.
And he did just that. Anglim even documented his haircut live on Survivor's official Instagram account for all to see. He had one request though: donate his $15,000 prize to the charity as well.
Sia also got in touch with contestant Aurora McCreary on Twitter and told her that she was giving her $15,000 as well. Why, you ask? Well, McCreary shared her experiences with being raised in the foster care system while on the show. Impressed by her resilience, Sia decided to gift her some cash and told her to 'keep going'.