During a concert in Vancouver, Pink invited a 12-year fan on stage to sing and then the fan blow away Pink with her big voice. Earlier before this event, Victoria Anthony used Twitter as a way to join her idol on stage at Rogers Arena. Victoria launched a campaign on Twitter as she dreamt of meeting her idol, Pink. In her Tweet, Victoria asked Pink to let her sing on stage and said that she is ready to sing with her. In the video she uploaded on Twitter, she also demonstrated some menacing skills.
Hey @Pink , please let me sing on stage with you in #Vancouver May 12. I'll be ready! – Victoria (age 12) Share this video and tag #vicandpink to make my dream come true. https://t.co/tlv4FhjtDm #BeautifulTraumaWorldTour @RogersArena #WhatAboutUs pic.twitter.com/FqoYuiekcT

— Victoria Anthony (@vicanthonymusic) May 1, 2018
#Vancouver hashtag campaign went viral on social media and earned a lot of fame. The hashtag was also endorsed by a Canadian singer Sarah McLachlan. During the concert, Pink saw Anthony in the middle of the crowd and then reminded her as the one who started a campaign on Twitter. After that Pink asked her was she the same girl about whom she read in the news. And then asked Anthony to join her on stage. When Anthony joined the superstar singer on stage, Pink made a joke by warning her not to faint, but Pink didn't have to worry as the 12-year old held the mic like a pro and then stunned Pink by singing Perfect in front of the crowded arena.
As soon as Victoria ended the song, Pink acknowledged her beautiful voice and said she had an amazing voice. There are few people who achieve their dreams and Victoria was one of them. Singing your favorite song with your idol on stage is a dream for many but that dream turned into reality for Victoria as she joined her idol Pink on stage. The video of Anthony singing song with Pink was captured by many and later uploaded to the YouTube channel of Anthony.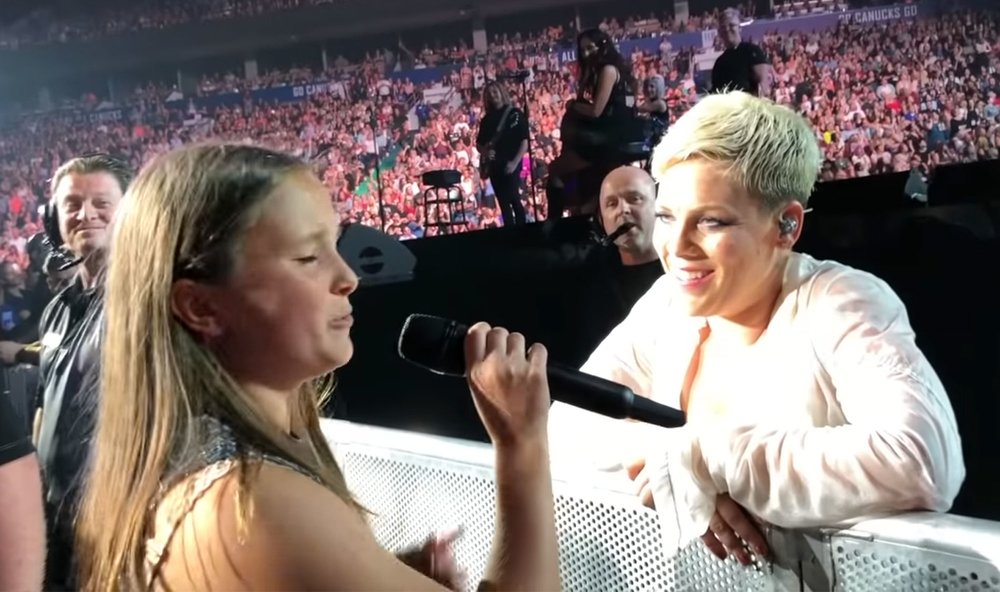 After that Anthony told Global News that she was still feeling that she is in shock and can't describe her feelings in words. She further said that her effort for achieving her dream is a message for all the people chasing their dreams that nothing is impossible in this world. Everything is achievable and the only thing which matters is the amount of time and effort you put in achieving the dream, said Anthony. She further told the news channel that the reaction of the whole crowd in the arena made the moment more special for her.
Anthony said that the idea of singing with her idol came into her mind after her mom bought her the tickets to the Pink's concert. And after that, she created a campaign to achieve her dream. She learned to play guitar and piano with the help of internet.  Anthony is now looking forward to her musical career as she planned to record and release some of her original songs.  Anthony was most inspired by P!NK's song What About Us and she also sang this song in her school days.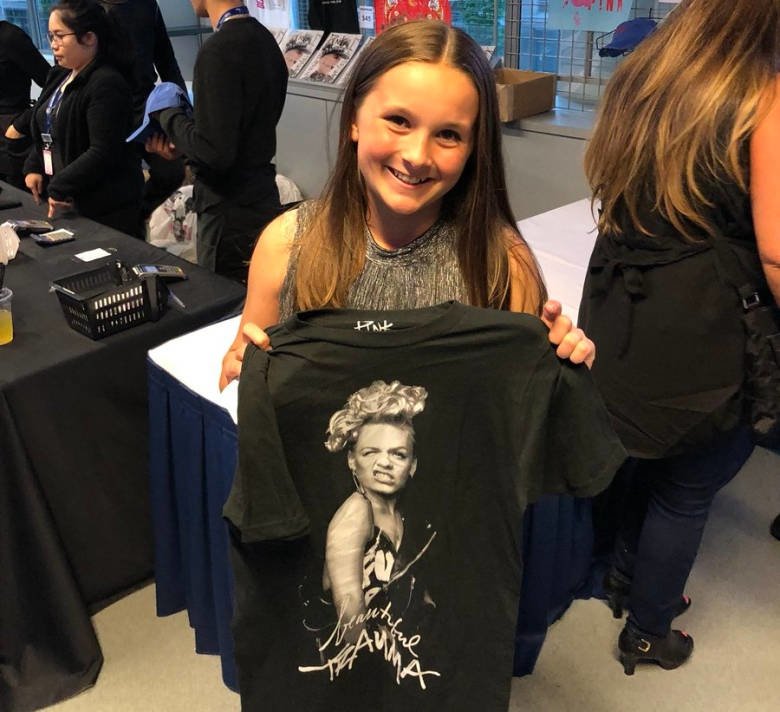 In the video campaign, Anthony tried to grab the attention of Pink by answering the question in that very song – Are you ready?  In her video, Anthony said that "Yes, she is ready". The story of Anthony's dream did not end at Twitter as she also created a YouTube channel and an Instagram post for promoting her campaign. Her mom told that social media is very fast nowadays and she thinks that her daughter can achieve her dream with the help of it.
The #VicAndPink campaign of Anthony took the internet by storm and many people joined her on social media. Later her video was uploaded to her YouTube channel and got more than two thousand views in just two weeks. She uploaded a video on her YouTube channel in which she was seen singing Pink's song What About Us and playing the piano.
Your songs make me feel good, and inspire me as well, I can do anything while listening to your songs, Anthony captioned the video with these words. Anthony learned to play piano and guitar but when asked about whether she would take it as a carrier, Anthony said she didn't know yet as she is just 12-year old. She also said that no matter what, music will always be a part of her life.