Janet Jackson made history in the Sunday's Billboard Awards as she became the first black women to win Billboard Icon Award. Jackson sang a blend of her famous songs "Nasty" and "Throb" and after that, she also gave a speech on #MeToo movement and pledged for solidarity.
Janet was present in the audience to receive the award and she was the first black lady to receive Billboard Icon Award from BBMAs. Janet also holds the record for releasing 5 consecutive No 1 albums. Also, she had the biggest-selling debut tour in history. After her electric performance on stage, Janet was called on stage to receive the award and she became emotional when the audience started yelling her name "Ja-net! Ja-net! Ja-net".
After receiving the award, Janet said that she is feeling honored and grateful for this award and this is a historic and gracious moment of her life. She further said that this moment had made clear that no women will be abused and controlled from now on. She told that she stands still with those men and women who are treated differently in public. The crowd kept chanting her name as she said that this is the moment when the disclosure of public is harsh and loud. She further added that it is her prayer that everything around us remains calm and peaceful. Everything in which we lack like patience, love, and sensitivity are in abundance to God, said Janet.
After rocking the stage with her incredible performance, @JanetJackson accepts the 2018 #BBMAs Icon Award! #ICON_JANET pic.twitter.com/S7nDbrGJQI

— Billboard Music Awards (@BBMAs) May 21, 2018
In the end, she thanked the audience for their continuous support and God for giving her the energy to live the life of an artist who every day tries to expand her capacity to love.
It was announced by the Billboard that Janet will receive the Billboard Icon Award in Los Vegas Awards which were to be held on May 20. The other award-winning names were Celine Dion, Stevie Wonder, and Cher. Her magical performance on "Nasty" and "Throb" was also her first live stage performance since American Music Awards back in 2009. As soon as it was announced by the Billboard, Janet made an Instagram post in which she said that she can't wait for the Billboard Awards ceremony.
From 1990, Janet was nominated 18 times for the Billboard Icon Award and won 10 times out of total 18 nominations. The coming summer is too busy for Janet as she has planned performances at Outside Lands and Essence Festival. Billboard Icon Award is the annual honorary award given by the Billboard and Janet Jackson, sister of late Michael Jackson, is the first black lady to have her hands on it. Janet was awarded the price due to her long 40-year career covering music and television. During her prolonged career, Janet earned more than 100 million from sales and 35 total awards.
Janet is the youngest among Jackson family and she made her first appearance in 1976 in a TV series named 'The Jacksons'. After that, she continued appearing in the TV series throughout the 70's. She also spoke a lot about women discrimination and paid tributes to many women in this regard. Before calling for the award, Bruno Mars told the audience that Janet possesses unassailable genius of an artist. Janet received the award just a couple of days before the 25th anniversary of 'Janet', a seminal album of Janet-52.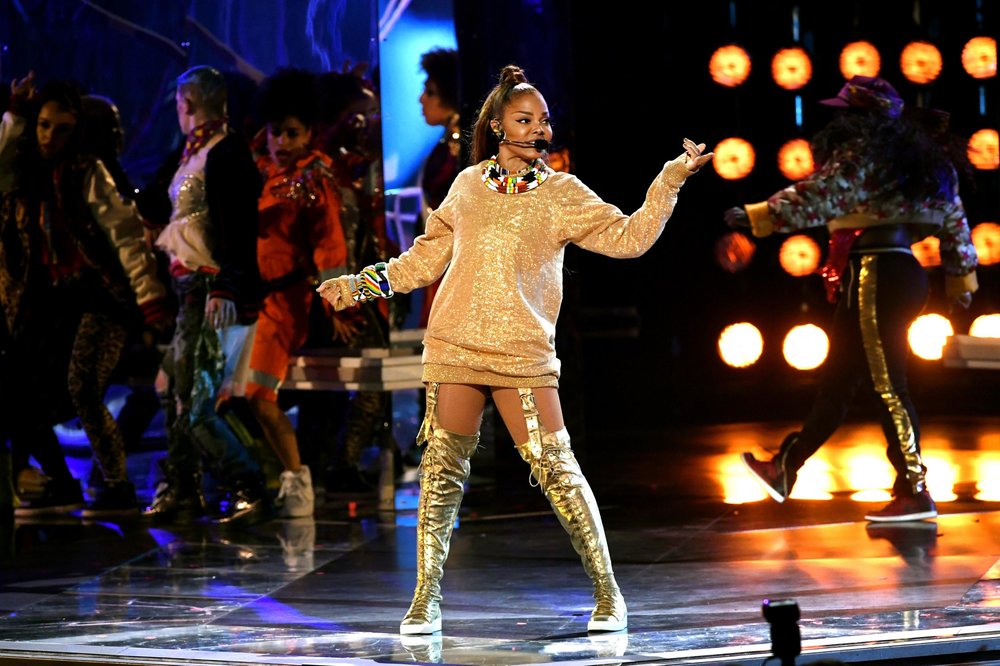 During the Billboard awards, Janet hit the stage with a gold shiny sweatshirt and same-colored shoes as she sparkled the stage with the melody of her late 1980's songs. While she was singing, her mother Katherine and nephew Prince Michael were chanting for Janet from the audience.
A couple of dancers joined Janet during her performance as New Britain's Phillip Galbert and Birmingham's La'Vala were among those dancing with the award winner. Both Galbert and La'Vala were among those who won the pole of 75,000 to win the competition of dancing with Janet at Billboard Awards. It was revealed by PEOPLE that the winners will not only get a chance to join JTribe but will also get a chance to perform with Janet on stage.
In a recent interview to PEOPLE.COM, Janet's brother revealed the painful story of her sister's divorce and said that he will stand out with those men and women who face abuse in public.