While Adam Levine's Super Bowl performance may have received mixed reviews, his better half Behati Prinsloo is still a shining star in the fashion industry.
People around the world know her as one of the most gorgeous supermodels of this era, but there are a few facts you may not be aware of regarding her life. Don't worry though, as we are here to give you a crash course into everything you need to know about her.
An Angel
If you have been following the fashion industry, and if you know anything about modeling, then you surely must know that the highest honor a female model can receive in the fashion world is signing on with lingerie brand Victoria's Secret as an Angel, which is a fancy term given by the brand to their ambassadors.
As an Angel, Behati has not only had the privilege of representing the brand around the world, but also the coveted exposure of walking its world-famous and extremely popular fashion show titled simply The Victoria's Secret Fashion Show.
Prinsloo has been an Angel for the brand ever since 2009, a couple of years after her first walk on their 2007 fashion show.  When she started her relationship with Adam Levine, he could be seen cheering her on whenever she walked the ramp for the lingerie brand.
Although she was not able to walk during the 2016 and 2017 shows due to her pregnancy, she returned the following year and continued on with her tenure.
An Email Encounter With Adam
Although love stories among celebrities are known to be somewhat unconventional as far as their first encounters are concerned, the way Behati and Adam started talking is definitely a first for us.
Apparently, Adam was looking for a model to feature in one of his videos, and he approached Behati for that purpose via her email address which he acquired from a friend of his. The deal never happened, but Levine and Prinsloo kept exchanging emails until they finally decided to go on a date.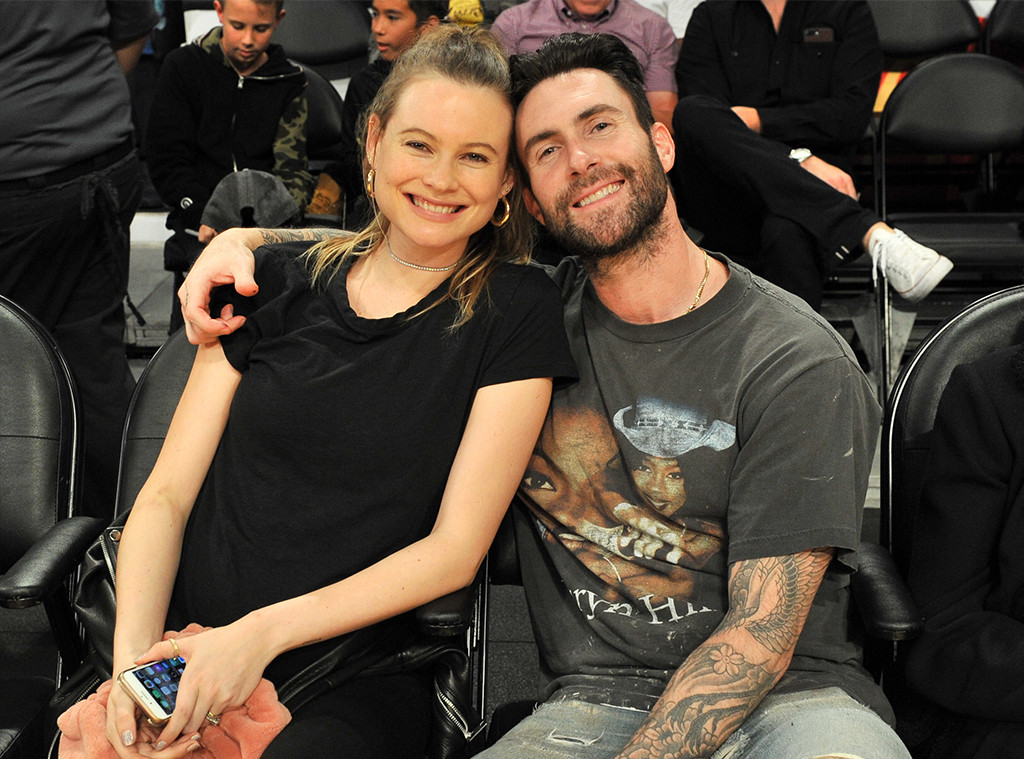 The first time we saw the two as an official couple at a public event was at GQ's Gentlemen's Ball back in 2012 which was held in NYC. The two did encounter a bit of a setback in their relationship in 2013 and reportedly ended things. However, they quickly rekindled their flame and decided to get engaged soon afterward.
Marriage in Paradise
After sustaining a loving relationship for a few years, the pair decided to tie the knot in 2014 and eloped to Los Cabos in Mexico for their wedding ceremony.
So far, they have welcomed two daughters, the elder one being Dusty Rose Levine who they welcomed in September 2016 and the younger one being Geo Grace Levine who entered their lives in February 2018.
A Namibia Childhood
Not many people know this, but Behati entered this world in South Africa and spent her childhood in the Namibian region of Grootfontein. With a father who was a minister and a mother who was busy in running a bed & breakfast business, Behati had a normal childhood full of activities such as gymnastics, field hockey, as well as the track.
It was in Cape Town that Behati was discovered for the first time as a potential model, an offer she ultimately declined after consultation with the rest of her family members. However, on another trip to Cape Town, Prinsloo was discovered once again and this time, she signed on.
Maroon 5 Loves Her
This one goes without saying considering her husband is the lead singer for Maroon 5, but it is still interesting to note that Prinsloo has been in a number of the band's videos over time.
You may remember her appearance on the Animals song of the band. However, she has also appeared in Cold and also in the second volume of Girls Like You (with their daughter).